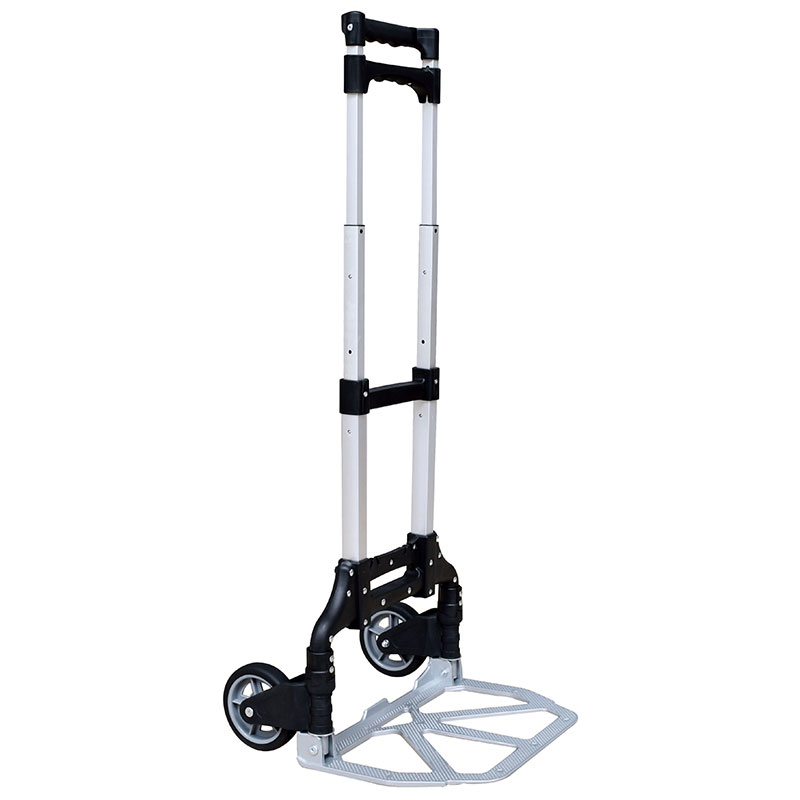 Aluminum - Folding Hand Trucks
Aluminum Light Weight Sack Truck Trolley Producer
WOODEVER offers 8 types of aluminum trolleys, capacity from 70 kg (154 lbs) to 200 kg (440 lbs) to meet the needs of light and heavy loads. The aluminum trolley is made of inspected aluminum with standard 6063-alloy proportion, which has good rust and corrosion resistance for use in the coastal area, laboratories, and medical environments. The trolley structure has a thicker tube connecting the plate to the frame, resistant to carrying heavy loads, such as electronic devices, factory materials, and medical equipment.
---
The full range of aluminum trolleys is designed with a folding function, effortless operate by foot or hand of trolley plate, achieving easy storage and high loading capacity; the multi-stage telescopic handle allows for use at any height. Lightweight is another feature of aluminum material; the aluminum trolleys are light and portable, suitable for use in industries where workplaces are not in the same place and need to be moved around, such as transportation, logistics, and removal industries. The full range of aluminum trolleys.
Contact WOODEVER for more information about aluminum trolleys, we will get back to you soon.
WOODEVER have more than 15 years of experience in customizing aluminum trolleys and offer a comprehensive handling plan including structural design, castor replacement, the material of the trolley, and packaging printing to meet your project needs. Please click on the image below for more information on each model. Welcome to contact us for more information about our product, services, and consultant of manual handling issues.
Aluminum - Folding Hand Trucks | Hand Truck | Folding Platform Cart | Step Ladder Manufacturer | WOODEVER
WOODEVER INDUSTRIAL CO., LTD., since 2003, is a Aluminum - Folding Hand Trucks | handtruck, cart and step ladder manufacturer based in Taiwan and manufacturing in China with BSCI certification.
WOODEVER's folding platform cart, the wide and sturdy steel or aluminum platform is normally 100 - 300 kg loading capacity and the range is approved by TUV with GS mark. Each component of the steel hand truck, including bolt, rivet and plastic parts, are precise. Patented design 2-in-1 Step Ladder & Cart features two indispensable functions; it holds 135 kg as a step ladder, and has a maximum loading capacity of 90 kg as a cart. Both are available for home improvement and commercial applications.
WOODEVER has been offering customers high-quality handtruck, cart and step ladde, both with advanced technology and over 15 years of experience, WOODEVER ensures each customer's demands are met.