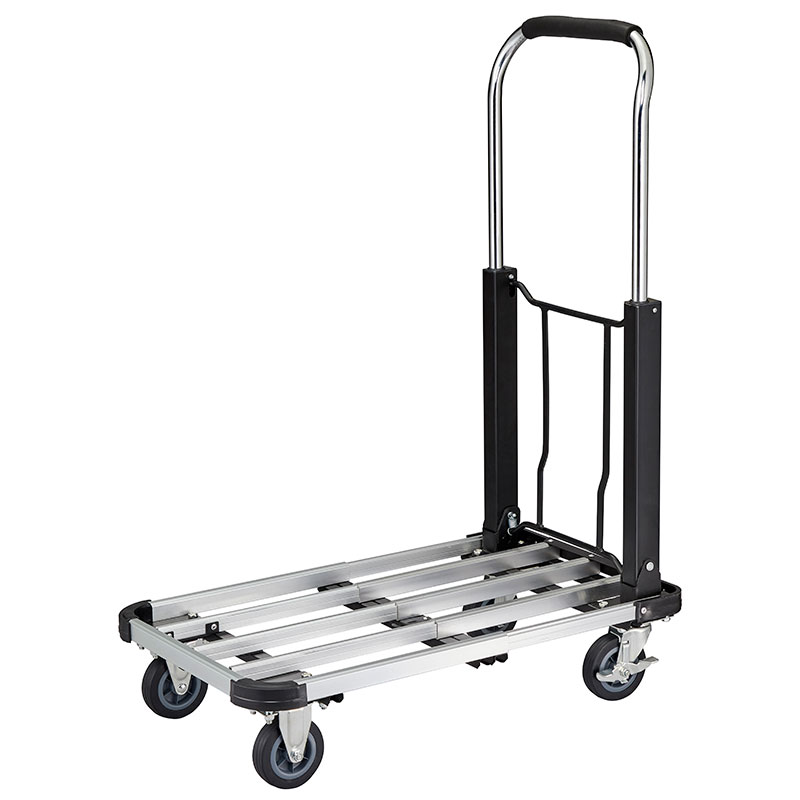 Folding Platform Carts
Platform Cargo Cart (push cart trolley)
---
Feature of Platform Cart
WOODEVER provides four types of platform cart featuring different function: adjustable platform and handle, the capacity ranges from 150kg (330 lbs) to 300 kg (660 lbs). Providing wide platform with non-slip surface, steady transport stack up boxes in big volume, which work efficiently and save your time and energy.

As experienced manufacturer of platform cart, we understand folding platform cart has to be designed based on heavy-duty and ergonomics of handling lifting. To satisfy the wishes, WOODEVER's platform trolley takes advantage of qualified metal material to create sturdy structure, adopting Q235 steel and LD31 aluminum alloy; whole platform cart is lightweight for take and stowaway, meanwhile, tough enough to haul up heavy weight. Suitable to apply at logistic, house moving or carry merchandise at exhibition and farmer market.

The ranges of platform cart approved by inspection institution with GS product safety mark and certification. WOODEVER continues to innovate and comes up better solutions for our customers; various material handling models are created to satisfy mass production for business customer that with different requirement. From product design to private logo on packaging, we are capable to manufacture customized hand truck according each client's request.
Contact us for further information and quote for Platform Carts, we will get back to you soon
The models below are various types of four wheels platform cart. Please click link for detail specification of each models, and feel free to contact us. We are willing to answer any questions you may have regarding our products, services, and other manual handing tools.
Folding Platform Carts | Hand Truck | Folding Platform Cart | Step Ladder Manufacturer | WOODEVER
WOODEVER INDUSTRIAL CO., LTD., since 2003, is a Folding Platform Carts | handtruck, cart and step ladder manufacturer based in Taiwan and manufacturing in China with BSCI certification.
WOODEVER's folding platform cart, the wide and sturdy steel or aluminum platform is normally 100 - 300 kg loading capacity and the range is approved by TUV with GS mark. Each component of the steel hand truck, including bolt, rivet and plastic parts, are precise. Patented design 2-in-1 Step Ladder & Cart features two indispensable functions; it holds 135 kg as a step ladder, and has a maximum loading capacity of 90 kg as a cart. Both are available for home improvement and commercial applications.
WOODEVER has been offering customers high-quality handtruck, cart and step ladde, both with advanced technology and over 15 years of experience, WOODEVER ensures each customer's demands are met.