Stainless Steel Cart
Stainless steel cart handling equipment in workplace supplier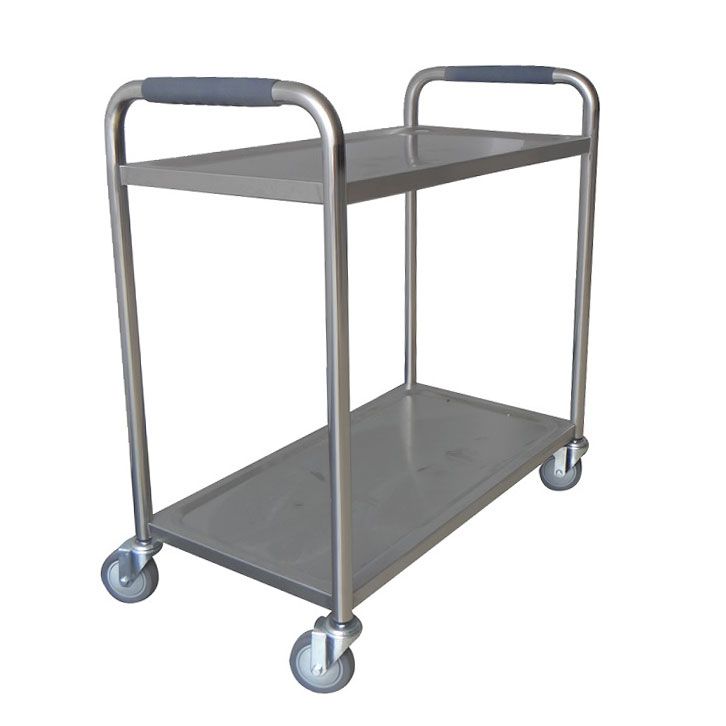 Stainless steel trolleys are corrosion resistant and suitable for transporting highly corrosive chemicals.
WOODEVER stainless steel trolleys are available in a wide range of options to suit different working spaces, making moving easier for operators. The trolleys are made from stainless steel with an alloy ratio following international standards; the chromium in stainless steel forms a transparent and dense coating on the surface, protecting the expansion of rusting. If the protective layer is scratched or corroded by chemicals, the nickel element in stainless steel helps to regenerate the protective layer, thus making stainless steel more resistant to corrosion than regular; suitable for use in laboratory and medical environments.
The stainless steel trolley is easy to assemble and requires no additional tools. The caster is the key to smooth transportation, WOODEVER trolley is equipped with fixed castor along with swivel castor to provide good maneuverability; the material of the castor can customize according to the terrain. Moreover, the trolley is available in two, three, and five tiers.
Are you sourcing for a stainless steel trolley?
WOODEVER stainless steel trolleys are flat-packed in cardboard boxes to reduce the size of the trolley, increase the number of loads in a single shipment and save more transportation costs. WOODEVER has exported to more than 20 countries in Europe, Southeast Asia, and North America, adopting international standards inspection in production; WOODEVER is the best partner for your business. Please feel free to fill out the inquiry form and request a sample.
---
Press Release
Online to Offline, How Do Digital Trends Boost the Business Opportunities of Moving Tools?

Trolleys assist handling in many industries such as manufacturing, logistics, and warehousing. It's an indispensable tool in all workplaces, not only reducing physical fatigue but also avoiding...

Read More

New Release Heavy-Duty Loading Hand Truck

The whole new item just released in 2018. Heavy-duty loading hand trucks are available for household, commercial and industrial application. It's the indispensable tool in this era.

Read More

Medical and Biomedical Laboratory Transport Solution

WOODEVER stainless steel trolleys are available in a wide range of options to suit different working spaces, stainless steel is more resistant to corrosion, suitable for use in laboratory...

Read More