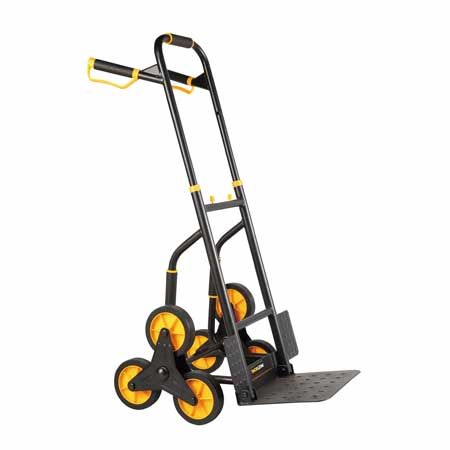 Stair Climbing - Folding Hand Trucks
All Terrain Up and Down Stair Hand Truck Supplier
WOODEVER offers 4 types of stair hand trucks with a wide range of capacities, provides clients with high-quality moving tools for moving materials, products, medical equipment, or food ingredients. The stair hand truck moves smoothly over the uneven surface of the road, help to reducing physical effort in moving up and down, then save more time and increase efficiency.
---
Are you looking for a stair handling solution? Stair hand trucks are designed for climbing up and down on stairs, steps, curbs, thresholds, and other uneven surfaces, by rotating the swivel wheels on both sides to move your goods up and down. In structure, WOODEVER designed the safer stair hand truck by putting the castors behind the plate so that the wheels do not rub on the loading item when moving and holding it close to the frame. For heavy loads, the SC and SC-1 models are equipped with wheel guards to avoid rubbing against the wheels; the MNA and MN models are aluminum made, ideal for carrying lightweight items.
Contact WOODEVER for more information about stair hand trucks, we will get back to you soon.
WOODEVER have more than 15 years of experience in customizing aluminum trolleys and offer a comprehensive handling plan including structural design, castor replacement, the material of the trolley, and packaging printing to meet your project needs. Please click on the image below for more information on each model. Welcome to contact us for more information about our product, services, and consultant of manual handling issues.
Stair Climbing - Folding Hand Trucks | Hand Truck | Folding Platform Cart | Step Ladder Manufacturer | WOODEVER
WOODEVER INDUSTRIAL CO., LTD., since 2003, is a Stair Climbing - Folding Hand Trucks | handtruck, cart and step ladder manufacturer based in Taiwan and manufacturing in China with BSCI certification.
WOODEVER's folding platform cart, the wide and sturdy steel or aluminum platform is normally 100 - 300 kg loading capacity and the range is approved by TUV with GS mark. Each component of the steel hand truck, including bolt, rivet and plastic parts, are precise. Patented design 2-in-1 Step Ladder & Cart features two indispensable functions; it holds 135 kg as a step ladder, and has a maximum loading capacity of 90 kg as a cart. Both are available for home improvement and commercial applications.
WOODEVER has been offering customers high-quality handtruck, cart and step ladde, both with advanced technology and over 15 years of experience, WOODEVER ensures each customer's demands are met.