Dual Handle Folding Steel Stair Hand Truck (Loading 120 kg)
WE2012-SC
120 kg ( 264 lbs) Capacity Yellow Sack Truck for Stair with Padded Handle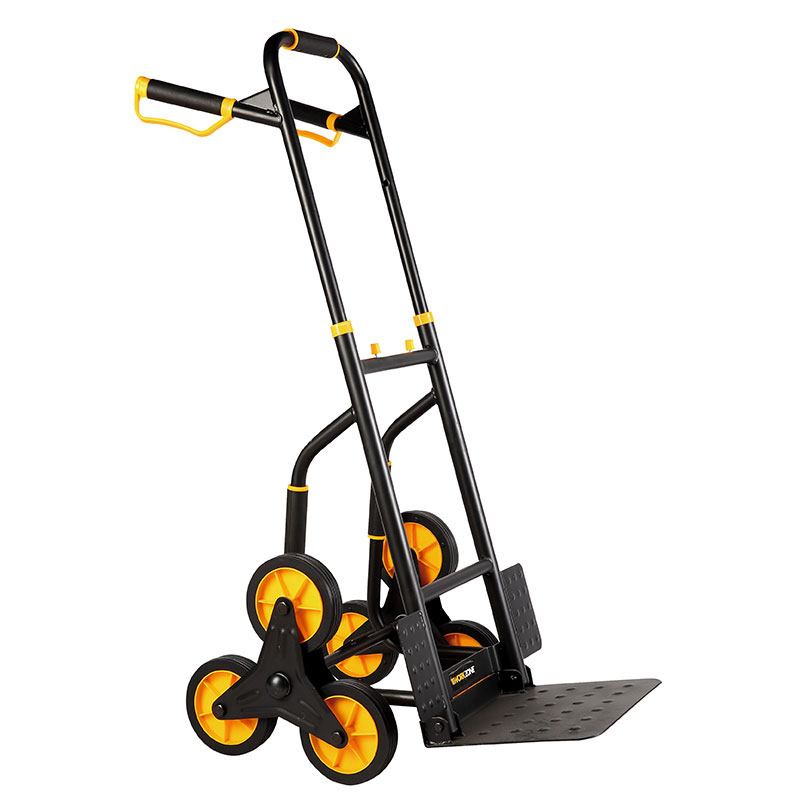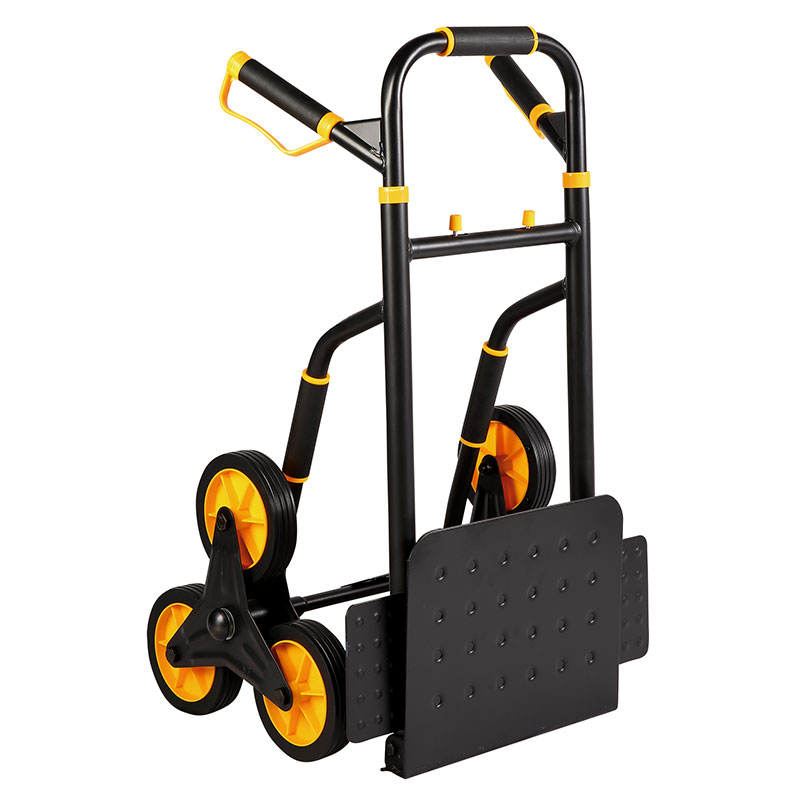 Folding steel stair-climbing hand trolley is engineered with high quality steel tube as major material with industrial grade 6-wheels. The maximum loading capacity 120 kg is far beyond average while weighing 16 kg. The model is very different from other similar stair-climbing hand truck, as a result of steel tube has a better strengthen than aluminum tube which is able to bear heavier loading. It is designed mostly for household, commercial usage and even more for industrial. In this way, our major customers are workplace wholesaler or retailer, workshop DIY equipment dealers, plumbing supply shops, hypermarket, cross-border business and much more. Full range of hand trolley can be partly customized or a whole OEM project in our total solution factory. Our experienced R&D team will take responsibility to develop ideal, customized product to meet highly satisfaction of customer worldwide.
Certificate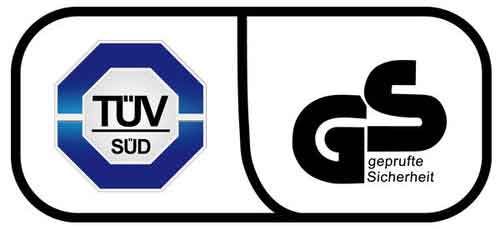 Specification
Material: Steel
Open Size: W52.5 x D63.5 x H115 cm
Fold Size: W52.5 x D43 x H84.8 cm
Nose Plate Size: 35 x 28 cm
Wheel: 4" PP + TPR Castors x 6
N.W: 16 kg
Capacity: 120 kg
Color: Black / Yellow
Minimum Order Quantity
500 Pieces
Features
Lightweight and heavy-duty.
Portable and easy carrying.
Compact design for simply storage.
GS approved.
Foldable 6 stair climbing wheels.
Foldable dual handling grip.
Applications
Outdoor heavy objects moving.
Time and efforts saving for goods and parcels delivery
Office facilities transport and setting.
Industrial warehouse handling solution.
House moving for apartment and condominium.
Large home accessories and furniture transit.
Related Products

WE2012-SC-MNA

---

The aluminum material-handling hand truck – WE2012-SC-MNA stair climbing & foldable sack truck, is capable to step stair with object up to 75KG (165Lbs), easy to maneuver over uneven surfaces.Six wheels folding cart originated and inspired from normal folding aluminum hand truck. Our product development redesigned to create a folding cart which easily moving up and down on stairs. With unique 6-wheels design, folding convertible 6-wheels hand truck can easily carry objects on different terrains, with non-skid TPR wheel, stair climbing hand truck works on carpet, concrete, grass, wood and more surfaces.The WE2012-SC-MNA portable stair climbing hand truck adopt solid aluminum frame, featuring lightweight and keep heavy-duty simultaneously, it only weighs 3.2 kg. Also, with foldable wheel, its thickness only 10cm as folded, therefore suitable for small agency to large intuition. Telescoping handle in three level, extend from 63cm (24" inches) to 100cm (39" inches), reduce manual handling risks for every employee in workplaceWOODEVER's hand truck meet the global stander; export to European, Asia, South America and other region. Before delivery, each of product is cautiously inspected through complete quality control process and well-packed.

---

WE2012-SC-MN

---

The aluminum stair climbing hand truck – WE2012-SC-MN allows users to climb stairs with effortless carry, is capable to step stair with object up to 70KG (154lbs), easy to going up and down.The six wheels hand trolley can move and climb on carpet, concrete, wood, grass and more. With lightweight feature and foldable design, it is an ideal handy tool for daily work. The hand truck with useful stair climbing function makes it become one of our popular models, each connection point of frame has been strengthened, create sturdy and solid features for long-term use. The hand truck featuring stair climbing capability with double hand grip for your easy maneuver. With foldable TPR wheels, it can be easily used to carry objects on all kinds of terrains. Solid aluminum used frame is lightweight and heavy-duty, it only weighs 3.5 kg and thickness 10 cm as folded. Both simply storage and usage. Before delivery, each product is cautiously inspected through complete quality control processes and well-packed. We accept partly customization on plastic parts colorway and packaging free of charge if customer's order volume meets the required quantity.

---

---

Files Download

---
Press Release
National Manufacturing Week At Melbourne Convention Center

WOODEVER is going to presenting a variety of hand truck, hardware accessories at downtown Melbourne, Australia from 14-17. May 2019. Stay tune to fair gallery or visit us in beautiful Melbourne!

Read More

New Release Heavy-Duty Loading Hand Truck

The whole new item just released in 2018. Heavy-duty loading hand trucks are available for household, commercial and industrial application. It's the indispensable tool in this era.

Read More

BSCI Approved Factory of Hand Truck BSCI

Woodever is proud to acquire BSCI certificate. We are trustworthy hand truck manufacturer you can rely on.

Read More