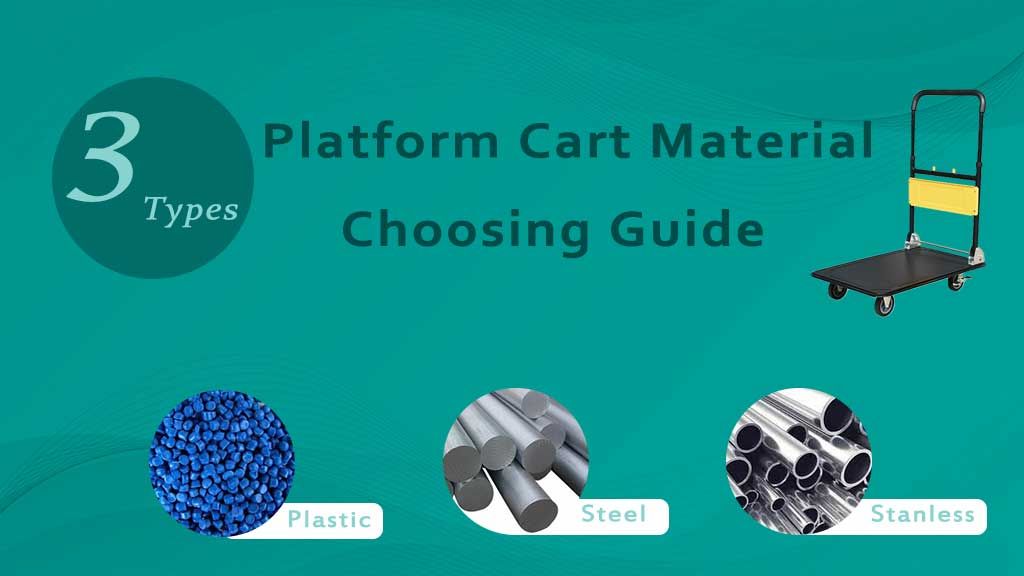 【Handling Tool Product Knowledge 】Using plastic or steel platform cart? The complete introduction of each material flatbed trolley.
The wide platform of the flatbed cart can transport large objects or a large number of items at one time, making it the best choice for various of business purposes! Flat trolleys on the market are made of three main materials: plastic, stainless steel and steel. They differ greatly in terms of body weight, load capacity, and use occasion. The following is a detailed breakdown of the material differences
---
02 Jul, 2021
Lightweight characteristics of plastic carts
Most of the plastic trolleys are made of PVC, PP, and ABS materials, which are extremely lightweight and impact-resistant, easy to carry, and widely used in everyday applications. In recent years, due to the widespread application of plastic products, the price of plastic has increased a lot, and the cost is actually higher than steel flat trolleys.
Corrosion resistance of stainless steel trolleys
Stainless steel is alloy steel made of steel as the main element, combined with different elements such as chromium, nickel and manganese in different combinations. Stainless steel is not easy to rust because it contains chromium, which forms a protective film on the surface, and its natural anti-corrosion properties make it easy to clean. Due to the high and unstable cost of the raw material nickel(Ni), low-cost stainless steels on the market have the nickel content halved and replaced by the cheaper material manganese(Mn), which is harmful to humans. No regulations are governing the manganese content of stainless steel, and the proportion of each metal has to be measured by professional equipment, so need to be more careful when choosing a supplier.
Efficient loading durable steel platform carts
Iron and steel are often mentioned together. Strictly speaking, steel is another type of iron with low carbon content, and pure iron itself is brittle and does not provide the same stability as steel. Steel has a certain strength and hardness, so steel trolleys are quite resistant to heavy loads, do not deform when carrying large amounts of heavy objects, and are widely used in industrial and construction applications. Due to its natural mineral properties, it is susceptible to oxidation caused by air humidity, however, the air can be and can be isolated by using powder coating on the metal surface to maintain a bright appearance and service life.
Each material has different advantages and disadvantages, so it is not difficult to choose the right trolley according to the use occasion. If your workplace has any needs for moving tools or has questions about moving trolleys, please contact us. We will provide you with professional consulting and moving solutions to become your best partner in market development.
Related Product
15 Years Heavy-Duty Hand Truck | Folding Platform Cart | Step Ladder Manufacturer | WOODEVER
WOODEVER INDUSTRIAL CO., LTD., since 2003, is a handtruck, cart and step ladder supplier and manufacturer based in Taiwan and manufacturing in China with BSCI certification.
WOODEVER's folding platform cart, the wide and sturdy steel or aluminum platform is normally 100 - 300 kg loading capacity and the range is approved by TUV with GS mark. Each component of the steel hand truck, including bolt, rivet and plastic parts, are precise. Patented design 2-in-1 Step Ladder & Cart features two indispensable functions; it holds 135 kg as a step ladder, and has a maximum loading capacity of 90 kg as a cart. Both are available for home improvement and commercial applications.
WOODEVER has been offering customers high-quality handtruck, cart and step ladde, both with advanced technology and over 15 years of experience, WOODEVER ensures each customer's demands are met.