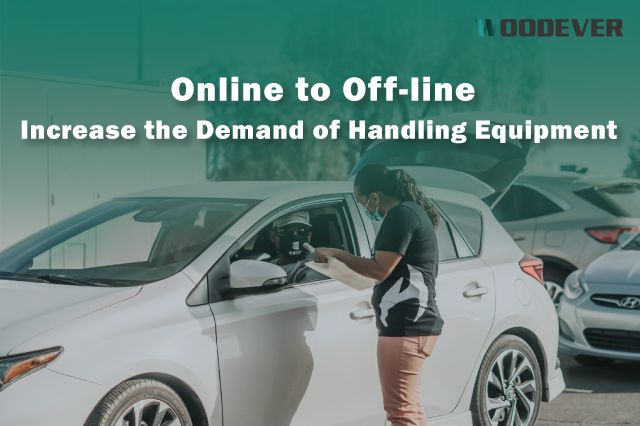 Online to Off-line: Increase the Demand of Handling Equipment
Trolleys assist handling in many industries such as manufacturing, logistics, and warehousing. It's an indispensable tool in all workplaces, not only reducing physical fatigue but also avoiding handling injuries.
---
27 Dec, 2021
Under the pandemic, safe, protective, and durable products are the key to purchase, sales increased in the consumer market. With decades of experience in all kinds of manual transportation tools, WOODEVER has provided services from global procurement to OEM production, with all products that have passed international certification. We have a lot of market and service experience for all kinds of moving tools, from household products for wholesale, commercial, and industrial applications, WOODEVER is your best partner to join the handling tool market.
Durable Property and Certified Products Are the First Choices for Consumers
According to market research by Deloitte, from 2020, the share of consumer spending keeps shifting from services to goods, with 40% of consumers more likely to pay extra money for convenience to keep themselves safe. Due to health concerns, consumers are less likely to go to service places such as restaurants and theaters, increasing their expenditure on goods. The various types of equipment that can be used for more than three years (durable goods) have become a hit in the market. Besides durability, the rapid growth of the digital environment has increased the public's concern for environmental and social issues. The public is more willing to purchase goods with a positive impact. The products have social objectives is four times more to make a purchase, certified goods have more advantages in the market now.

The Community Mobility Reports from Google, in 2021, the flow of people to recreation has not yet returned, the number of visitors to groceries and pharmacies remains higher than the average, with the annual average statistics increasing by 8.7% in Canada, 10.12% in Germany, 15.98% in France, 9.6% in Italy and 3.18% in Japan. In the post-epidemic era, online services boost retail sales, making the online shopping platform Amazon jump to the second-largest retailer in the world. The "Buy online, pick up in-store" model has also gained the attention of customers, retailer Target growing sales by more than $15 billion through its stop-and-pick-up service, a significant increase of 235% in pick-up service.
The Market of Handling Tool Has Great Potential
The increase in online and offline shopping behavior also drives the demand for handling tools, offline customers can pick up their goods in-store and transport efficiently via handcart, reducing waiting time. eMarketer statistics show that global e-commerce is growing by 27.6%, and with the significant increase in online orders, logistics operators are competing in the "Last Mile Delivery" of inland transportation. According to a survey by UPS subsidiary Coyote, in the epidemic, the share of human operation in logistics is increasing rather than decreasing, from 39% in 2019 to 42% in 2021.
Want to get a quote and consultation?
Please fill out the inquiry form below, our professional consultants will recommend the right moving supplies according to your needs and plan. Welcome to contact us for further discussion about equipment and production issues.
Related Product

WE2012-SC-MNA

The aluminum material-handling hand truck - WE2012-SC-MNA stair climbing & foldable sack truck, is capable to step stair with object up to 75KG (165Lbs),...

Details

WE2012-PTP

WOODEVER engineers with sturdy steel plate along with extra-large pneumatic wheels. Average massive production lead time will be around 50 days. It is bit longer...

Details

WE2012-01 (Ladder)

WE2012-1 is a multi-functional step stool with trolley designed and manufactured by WOODEVER. Meanwhile, it is world patented which WOODEVER owns full...

Details
15 Years Heavy-Duty Hand Truck | Folding Platform Cart | Step Ladder Manufacturer | WOODEVER
WOODEVER INDUSTRIAL CO., LTD., since 2003, is a handtruck, cart and step ladder supplier and manufacturer based in Taiwan and manufacturing in China with BSCI certification.
WOODEVER's folding platform cart, the wide and sturdy steel or aluminum platform is normally 100 - 300 kg loading capacity and the range is approved by TUV with GS mark. Each component of the steel hand truck, including bolt, rivet and plastic parts, are precise. Patented design 2-in-1 Step Ladder & Cart features two indispensable functions; it holds 135 kg as a step ladder, and has a maximum loading capacity of 90 kg as a cart. Both are available for home improvement and commercial applications.
WOODEVER has been offering customers high-quality handtruck, cart and step ladde, both with advanced technology and over 15 years of experience, WOODEVER ensures each customer's demands are met.